I have only few possessions that I truly appreciate. This is one of them: after the renewed acquaintance with an old friend and bandmate, last year, it suddenly occurred to me that presumably I'm one of the few male models ever painted by Herman Tulp who isn't Herman Tulp himself.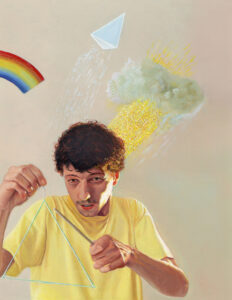 The year is 1989 and Herman and I play in a band. Herman just moved to his current home and, because I own a good drill, I help him to attach the curtain rail to the ceiling. As a thank you for helping him out, I get invited to model for an illustration he has to make for the magazine "Psychologie". And, voila, after a while he surprises me with a beautiful small painting, titled "Music Therapy". It has been hanging in my home ever since. Our guests don't even notice it's a painting. Some think it's just an awkward self-portrait I made…..
Because I know perfectly well how the painting was created and because I'm happy how Herman is doing nowadays: a tribute to the master.
25 years of music therapy… I can assure you, it didn't change me at all.